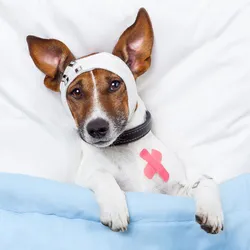 We know that having a surgery performed on your pet can be a stressful time for you as an owner…regardless if the surgery is a routine procedure or an emergency. At Wine Country Veterinary Hospital we take every precaution to insure that your pet is comfortable and has a successful outcome. This means that each member of our team has been properly trained for their specific job and prepped on your individual pet. Each patient's age, health and surgical procedure will be taken into account when we create an individualized anesthetic, surgery and pain control plan.
Wine Country Veterinary Hospital is able to provide a wide array of surgical procedures; from routine spays, neuters and mass removals, to emergency surgeries and orthopedic correction or repair. Many of these surgeries will be performed by Dr. Klein or Dr. Carter who both have had intense training in numerous surgical options and techniques. We also work hand-in-hand with various board certified veterinary surgeons if your pet should need a more advanced and invasive procedure. Please also be aware that your pet's health and safety is of the utmost importance to us; therefore there may be instanced where we recommend your pet is transferred or referred to a specialty hospital due to the intensity of your loved ones condition.
If your pet requires a surgical procedure, please feel free to call and together we can address the best options for you and your pet.